The name says it all. With Maria-Christina Piwowarski, we talked about this particular bookstore, her work as a manager, All-Gender Restrooms and CO-WC.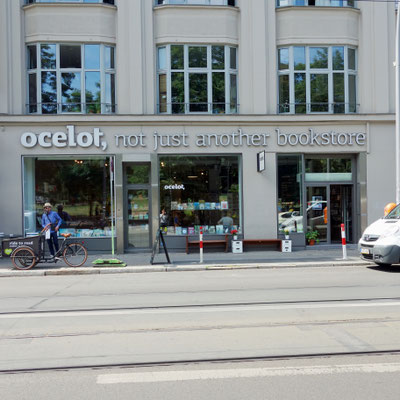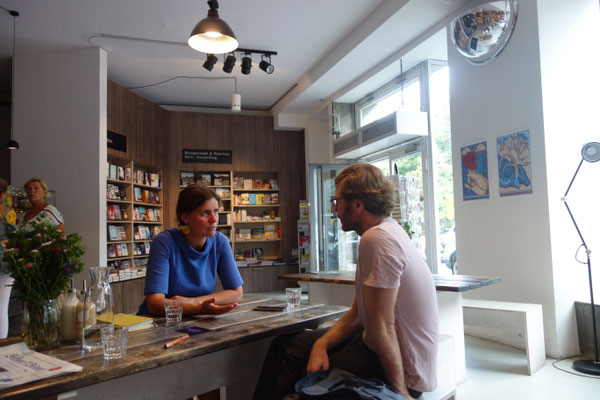 CO-WC: Hello Maria, please tell us who you are.
Maria-Christina Piwowarski: My name is Maria-Christina Piwowarski and I am a bookseller at "ocelot, not just another bookstore." I've been running the business since 2012. It's not my own shop, but I feel like it.
CO-WC: What's the story of ocelot - how did it begin?
Maria-Christina Piwowarski: Former owner noticed that there were only a few big bookstores serving coffee or most of them were pretty small, especially in Berlin's Mitte district. He thought it would be a good idea to open an alternative bookstore in parallel with Dussmann. A roomy and comfy place that comes with a café where people can spend time, with or without purchasing books. He wanted to create a relaxing atmosphere, so he did. There was a change of ownership in 2015, but the initial concept hasn't changed so far. We do a good bookselling. We've got a great assortment, working a lot on recommendations, organising events to present literature as something experienceable and low-threshold. And a spacious room enables us to create a loose atmosphere where people want to stay and enjoy literature.
CO-WC: Since when does the bookstore exist?
Maria-Christina Piwowarski: Since 2012.
CO-WC: What does the name "ocelot, not just another bookstore" signifies?
Maria-Christina Piwowarski: The word ocelot sounds simply great. Ocelot is a South American wildcat. We also have a picture in the store because people always ask us about it. Of course, you need a good tagline to define it. Ours is "not just another bookstore." It might sound pejorative to others not to be like others. But we are on a pretty cool corner right between Berlin Mitte and Wedding. Things are not as stringent as it is around the fancy area of Hackescher Markt, to put it cautiously. It's just a little bit more urban here. We have a clientele interested in literature and financially stable enough to go on. Other than that, it is in fact an attempt to be a special place. As the name ocelot implies…
CO-WC: You serve tasty coffee and organise events. How important is it to you?
Maria-Christina Piwowarski: My primary job is a classic assortment work. So the main pillar of our work is to decide which books come in, what we want to present, to recommend, and to feature. Actually, all bookstores do it very differently. In Berlin, there are incredibly great shops specialised in thrillers, nature, or multilingual. For us, it is essential that people want to stay in the store. You should have the feeling this is a place you are not being observed and able to sit down to read books. Coffee is a part of it, of course. I cannot work without coffee somehow. The scent adds an incredible energy to the atmosphere. We have a La Marzocco portafilter machine, an ideal model that makes excellent coffee. For a long time, we searched for coffee beans we want to drink every day. We offer water and non-caffeinated drinks as well. There is a steady clientele who prefers Chai-Teas or hot chocolates. The point is that we want people to feel at home with us. We don't overdo it, so we do not wait at table. But we are in Berlin Mitte. People have a higher standard.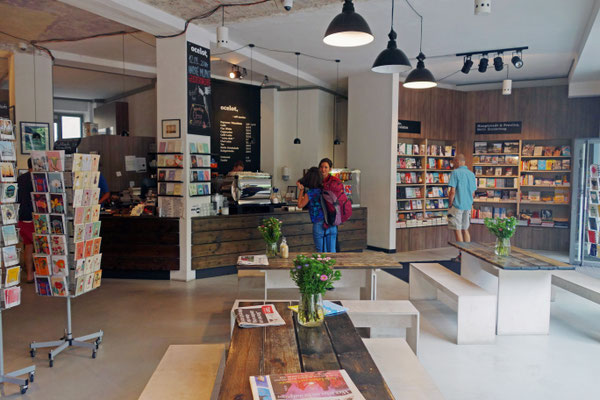 CO-WC: You have to be more than a bookstore…
Maria-Christina Piwowarski: Many bookstores focus only on books. But I think, you have to come up with something else, for books you can buy everywhere with a fixed price. Books written in German cost the same in every bookstore in Germany. So you have to offer something extra. In my opinion, it comes in form of care. It is important to add a personalised note.
CO-WC: How do you select books? What are your criteria?
Maria-Christina Piwowarski: I learned a classical bookselling. This implies that I look at publisher previews and talk to representatives of publishing houses. But I rely on my experience as well, often based on what my team and I like to read. Ideally, we read the books before placing them in our shelves. It has to be a well-balanced mix. I cannot allow myself not to buy the new Frank Schätzing, for people want to have it. But I also have to make a selection that surprises our customers. Here, we have a big heart for small, independent publishers who often make very special books and do not have a big budget for marketing and press. Customers literally fall in love with a whole publishing house. They discover something and think wow, amazing books, and then we get into a conversation. Ideally, we know a story about the publisher and can say a lot about the books. The selection is thus a very intuitive one.
CO-WC: You choose books based on interest and taste.
Maria-Christina Piwowarski: Yes, absolutely. I've been doing this for a while. I know my audience, I know the questions of people coming in and saying "Oh, I need something to read." I sense what can probably make them happy and come up with it while they are shopping. And then I surprise them with something they haven't expected at all.
CO-WC: Is there a genre that does not appeal at all?
Maria-Christina Piwowarski: We do not need architecture guidebooks anymore. Our customers barely want it, or get it elsewhere, in better sorted stores such as Dussmann or Walter König. We have a small lyric bookshelf. The economic justification is certainly questionable. But we like it and are happy to have it. We cannot offer everything, though. We do not have nonfictions like, How to take care of my potted plants, for instance(laugh). You have to position yourself for and against something.
CO-WC: Many people order books online. How do you deal with the new challenges of online trading?
Maria-Christina Piwowarski: We are now trying an online trade to keep up with the pace. We are connected to an awesome online shop called Genialokal. First, we need to distribute ebooks. Second, we want to be available during our off-hours. This online shop has a great advantage. You can check if certain books are in store or not. If not available, you can preorder online and pick them up in our store. This function is being actively used. And then everything can develop in a positive way: I am here, I have a coffee and a book. We do not try to bash too much against online trading. We deal with it better. I have a lot of people coming here saying, buying books online is completely out of the question. In Amazon, they buy food for their cats. Nothing against small cat food stores. They should do that. But they cannot recommend books. They only have an algorithm.
CO-WC: Do hardcovers and paperbacks have a future?
Maria-Christina Piwowarski: There is something cool about e-books and you have to see it as a chance. There are books you can read in a weekend. For example, there are some thrillers you can finish within a few hours and they are a lot of fun. But you do not want to have them in your shelf as an ornament or share them with other people. For that matter, e-books have a very good reason to exist. But then, many publishers put a huge effort into hardcover book printing. There are gorgeous-looking books. Publishers place value on the quality of paper and envelope materials, bookmarks and typesetting. It takes a lot of effort to create an impressive haptic perception. E-books and printed books will work well side by side.
CO-WC: Which book would you take on vacation with you?
Maria-Christina Piwowarski: If I haven´t read it yet, the new book by Nino Haratischwili. Georgia was a guest at Frankfurt Book Fair. Haratischwili writes in German, but was born in Georgia and has a lot of Georgian references in her books. Now, she deals with Chechnya conflict. She is one of the most brilliant authors of our time.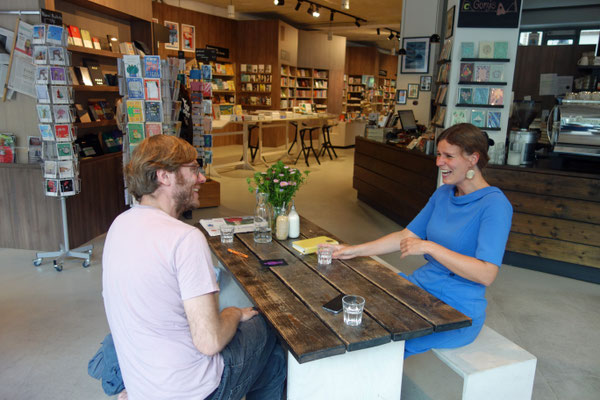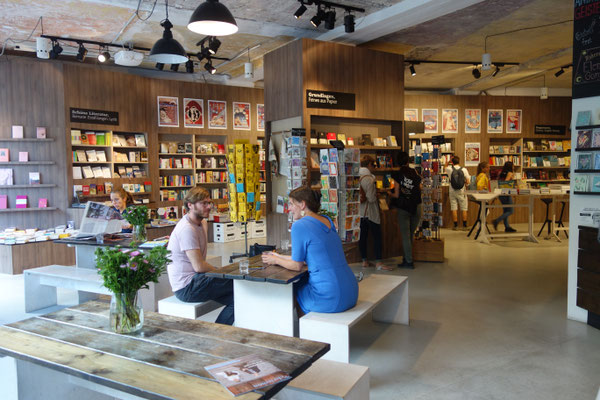 CO-WC: E-book, or paperback?
Maria-Christina Piwowarski: There are e-books with a translation function, you have bookmarks and you are able to make comments. However, Nino Haratischwili is someone I have to put in so many dog-ears, underline so many sentences and write so many notes. And it is a book that I constantly lend to other people. I would take it in print. Even it has got 700 pages.
CO-WC: You are on social media. You give recommendations, do live streaming of various events, and so on. What is your motivation and how important is it to you?
Maria-Christina Piwowarski: We used to have Facebook only. I really liked Facebook. It was a nice platform to introduce new books. One day, my boss from Heidelberg said that I should open an Instagram account as well. I never understood Instagram. For me, Instagram seemed superficial. I was not thrilled, so my bosses suggested that this could be done by one of our interns. Then it was clear to me: Nothing goes out of this store that does not pass my own hands. In the beginning, I had many prejudices. I thought I will just post some flowers and books next to coffee or something like that. Then I quickly found  an incredibly beautiful literature-interested community. People celebrate books, and at the same time they are grateful to get information about books, publishers, our bookstore, etc. Meanwhile, Instagram has become our favourite channel because it is easy to access. When we feel like doing a story then we just do it and do not think about a pimple that needs to be removed or something like that. We just want to let people participate in what we are really interested in. That is great.
CO-WC: People watch your live streaming events online. They write comments and voice their opinions. Is this how the cultural participation works today?
Maria-Christina Piwowarski: I see live streamings of reading as a cultural responsibility. I believe that no woman or man who stays at home with a baby should be excluded. We are in 2018. There is no problem filming an event with a mobile phone for an hour. We want to reach as many people as possible. 
CO-WC: This is a democratic approach, so to say.
Maria-Christina Piwowarski: Exactly. Everything has to pay off in the end. If you watch a live stream, you have only an hour of reading. But you do not have to pay for a ticket. We take advantage of the opportunities we have and inspire people. That works great, thankfully.
CO-WC: How important ist culture for the society?
Maria-Christina Piwowarski: Elemental. Political upheavals often came from art and artists. If we look at the power of media and artists positioning themselves for or against something, it is beyond debate. It may not seem to be so today. When any TV star says something, we just think it is as valuable. But there is a big difference. Literature still plays a significant role. Important topics are often discussed in literature before they get into real debates, in parallel or followed up. I do not have to have any historical volumes about the 30-year war in the store. But I have many philosophical debates, essay works on the very topics that sociopolitically bother us and that are important to us. Many books appear on important topics. We want to have them to inform people and see the flow of public opinion.
CO-WC: Literature as a mirror of society and a place where new visions emerge…
Maria-Christina Piwowarski: … and despite Wikipedia as a refrigerator of knowledge from which you draw.
CO-WC: Can you tell us more about your customers?
Maria-Christina Piwowarski: They are very different. Many of our customers live nearby and we want to be a bookstore for people who are rooted here as well. But we also try to satisfy tourists' need, simply because it is a cool clientele. We have been introduced by a dutch travel guide and one day many enthusiastic Dutchmen pop up in our store. This was very nice. We also try to reproduce the English-language literature segment. It has grown obviously here, largely due to the educated bourgeois public that want to read originals. There are many offices and agencies around here as well. People working there see us as an attractive lunch break spot where you can get a tasty coffee. And I am always happy to hear from people who tell me that when they come to Berlin they visit us because they know us from Facebook or Instagram. I really appreciate that. It's just fun to see people who care about us and put us on the sightseeing list. This is great. Our clientele is a very colorful mix.
CO-WC: Let´s talk about All-Gender Restrooms. How did you come up with a restroom for everybody?
Maria-Christina Piwowarski: We have to offer a public toilet because of our cafe. If your place exceeds a certain size, you have to have a restroom. We have two toilets in the back with a common sink in the hallway. We quickly get clear about that, one for staff and the other for customers. We never thought that we need to separate the cabins according to gender, that is we say there is one loo for those who feel male and there is one for those who feel female. It was always clear to us: our customers go to one room and we go to the other room.
CO-WC: Do customers sometimes ask for a ladies' or men's restroom?
Maria-Christina Piwowarski: At first glance, our customers may appear being a bit bourgeois. But they are totally open and attentive. This is a big advantage of Mitte compared to some other districts in Berlin. There are much more conservative areas where this might be a problem. We have none here. I never felt that I have to explain or justify our bathroom.
CO-WC: How did you decide to label the bathroom?
Maria-Christina Piwowarski: We had pictograms already, simple lines for the male and woman figure. For us, this was a typographically nice solution. We did not think about it. The signs were hanging side by side on the door, and when you go through the door there is a loo.
CO-WC: Our goal is to draw attention to the pictographic image and its cultural effects. Because it creates our reality. More precisely, they are socially effective due to the conventional embeddedness in reality and repetition of gender-WC-norms: gender differences and identities are being reproduced constantly. To put it another way, old pictograms reduce our potential selves either to man or woman over and over again. We cannot simply ignore these signs because they are deeply routed in our daily life. But we can deal with the past and deconstruct given structures for a more open and free society.  
Maria-Christina Piwowarski: It has been in us for a long time. There are signs of a woman having a child by the hand. It is always a woman and a child and so on…
CO-WC: There is a gap between theory and practice. We are open-minded and critical, although there are reactionary movements. But in everyday life we follow almost naturally anachronistic WC signs. This is the force of habit.
Maria-Christina Piwowarski: It would be cool, if we could overcome the old tradition some day and don't need to think about these things anymore at some point. This is the goal. And it would be better for the society. But it takes time. It is always like that.
CO-WC: Now, the All-Gender Restroom is a global trend and pushes us to reflect on life. How do you feel about it?
Maria-Christina Piwowarski: It is absolutely an issue. Many people are still not touched by gender topics because they are unaware of it. But there are stories of people who are in transition, for example Maggie Nelson and her book The Argonauts telling about being married to a man who has adapted his gender. Such topics infiltrate literature and cinema where people can come in contact with it. Things are slowly spreading through art and culture in society. This is how you get in contact with it, without having luck to know someone who shares feelings with you. There are reservations, of course. My children's school and day care center still says: you're a boy, you have to, or you're a girl, you should not. And what about children in between? It's important to give them space and just say, hey, it's okay to feel the way you do. This does happen, but slowly. Trans-people face the problem all the time, which dressing room or bathroom they should use and then need to justify themselves. These examples show how important it is to be sensitised. For example, we have stupid front steps — in the back of the store, there is a barrier-free access. I try to be attentive so people do not have to ask for help. The same goes for all-gender bathrooms. I want it to be low-threshold and easily accessible for everyone, so that you don't feel stupid or uncomfortable.
CO-WC: All-Gender Restrooms are a matter of social debate. The pictographic image culture slowly begins to appear as a problem…
Maria-Christina Piwowarski: For me, the place behind door is simply a toilet. All people are going through this door. That is what I actually thought cool, you do not have to decide which door you go through, because you're just at the right door per se. But you have to communicate it somehow. And I thought our old signs were fine for both. Of course, everything in between was missing. Now, I see your sign that indeed represents the in-betweenness. You have the man and woman and everything that comes in various shades in between, in one pictogram. I think, cool, that's better, more elegant, and definitely a fairer solution. But you had to come first and show it to me, and I am grateful for that.
CO-WC: We are happy to be here. And our discussion shows we are on the right track. But there is still a long way to go…
Maria-Christina Piwowarski: I notice that in the shop as well. There are people who say they would like to buy a book for a girl. Personally, I do not care. I just want to recommend books and it should not matter if it's for a boy or a girl. There is a growing awareness that it cannot meet our standard. Especially in Berlin you can sense this culture. We had once a shop window with big letters "the world is fluid" and many books discussing gender issues and reflecting stereotypic thinking. It was very well received. People are interested in how you can help or in what you can do.
CO-WC: There is a lot going on today, in the theoretical and practical sphere. We want to close the gap between the gender discourse and visual culture to change the reality. 
Maria-Christina Piwowarski: There will be people who invent something and offer a solution. I believe, that's why you're probably right, you can barely solve something on the high educational level. There are enough gender theories discussing that matter but none of them has built a sign for Everyday Life. And that is the point. The sign is something that infiltrates the eye completely automatically. I think many people have not realised what this sign can tell. They just thought, aha, here's the loo. This is great, too. But whenever people reacted on the sign, I have received encouragement.
CO-WC: As for us, the project is a bridge between past and future, as well. Maybe, some day we are not feeling reduced anymore and see each other as humans. At the moment, the heterosexual matrix reproduces itself through the pictographic image culture, and we will not change it by simply omitting the old pictograms. But we can play with norms and in doing so, we can change reality. We are not talking about a superficial destruction, but a meticulous deconstruction to expand our horizon for something new. CO-WC sign may not be the ultimate image, but it creates noises, at least. When people visit the bathroom, they will see the irritating sign. It might inspire to think about oneself and life. Just like you installed the mirror in the gender feminism corner. That is great.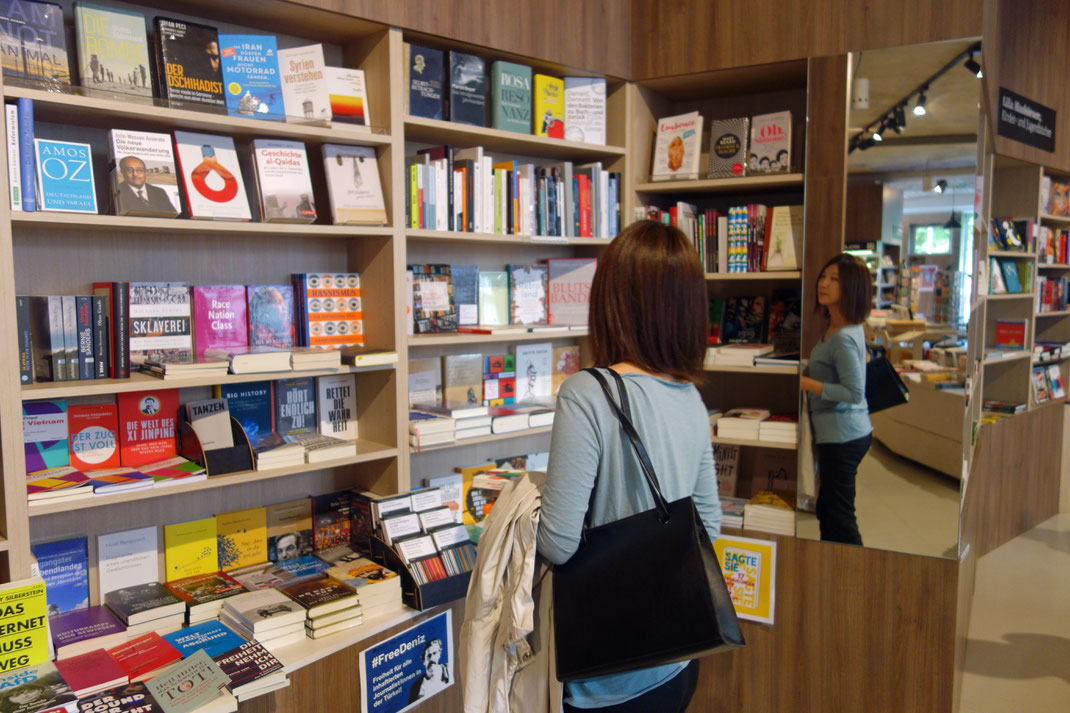 Maria-Christina Piwowarski: I love it, too. It is my favourite section. Next to it is philosophy, and maybe I have to minimise philosophy and make feminism a bit bigger. 
CO-WC: The gender section with a mirror causes noises and so much trouble already. This is a genius installation. Ant this is what we want to do with CO-WC, exactly the same way. It reflects ourselves, but it doesn't show exactly who you are.
Thank you very much Maria-Christina Piwowarski for having a lovely talk with us!