Welcome to CO-WC booth!
A real highlight, full of unforgettable memories
Every year, thousands of people flock to Berlin's gay district Schöneberg. It is the biggest festival of its kind in Europe. Over one hundred organizations join and celebrate the day. Celebrities, musicians, and artists pop up on stages, and there are endless food & drink booths to party. Families, a group of friends, or couples, everybody's welcome. Gender queer community open wide its doors.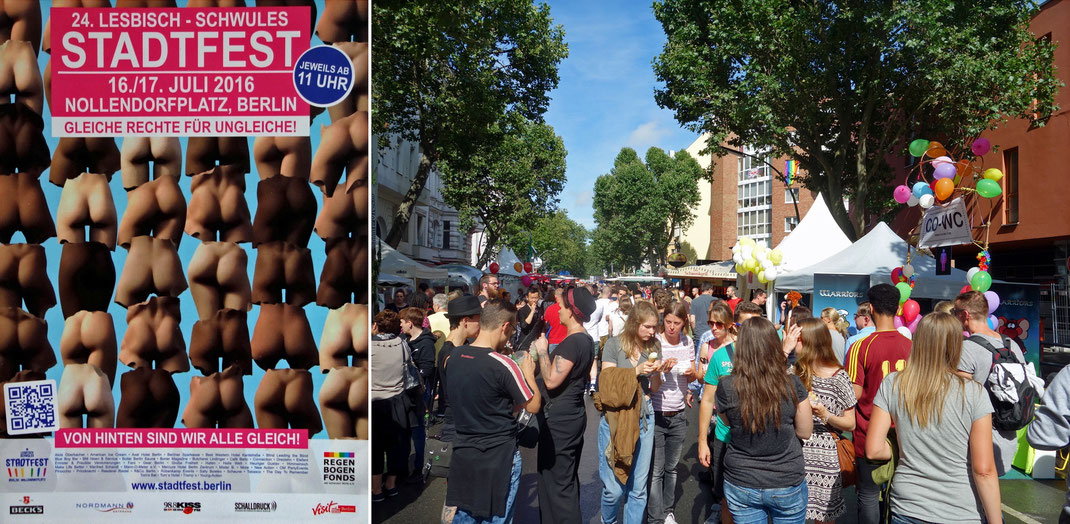 This year's motto is "Equal Rights for the Unequal - From Behind We Are All Equal." Sounds awesome! So we contacted the organiser Regenbogenfonds e.V. and gave a brief presentation of our project. And then things happen very fast. We signed up quickly and start working on the booth.
First, we built an arch-shaped frame with copper pipes. A pink flower pot and a blue watering can filled up with cement were used as feet. Colorful balloons were summoned up to boost a festive mood. Two solar-powered butterflies were attached for a  glowing effect in the dark. On the info table, our fabulous penguin Hedwig was placed, showing off its rainbow petticoat. Piles of flyers are neatly ready. CO-WC Logo with our sign went up high, and now it's time to party!
Our booth was located on Motzstraße, near one of entrances. This is a historical street among the gay locals. Numerous gay bars were open in the early 20s, and since then it's been a cultural hub for queers up until today. In 1993, the 1st festival was held on this street. It is also known as Motzstraßenfestival (Motz street festival).
Going through the streets, one can see an interesting booth after the other. Right next to us was the Senate Department for Labor, Integration and Women of the State of Berlin and on the left is CLOF, the creative lobby of the future. On the opposite side was the Hanf Museum Berlin. As you see, there are so many different things to see. 
Our goal was to make you 'think.' As you move around, you see the sign changing its colors and shapes. No man or woman fixed, simply bodies in flow. We wanted to talk about gender identity and the heteronormative system, all-gender restrooms and their signs.
Visitors loved to play with the sign. That was fantastic. Each had one's own perspective, but one thing was clear. It's about the flow of life. We received a broad support and were encouraged to establish CO-WC in everyday life.
There was critique as well. Some pointed out, we present the sign as an up-to-date solution for all-gender restrooms and for everybody. But why with old binary pictograms? We can use signs with a half man, a half woman. Or even better, why don't we just go for non-human signs or with letterings only?
Let's face it. We don't want to use man-woman pictograms or hybrid kind of signs. They reproduce the heterosexual idea and reduce our potentials. But to simply ignore them cannot lead to a solution, either. Human-like signs are everywhere, and as long as they shape our lives in a way, they won't easily disappear.
So, what to do? Why don't we play with an old sign and queer it? This is what CO-WC is all about. The sign mirrors our reality and at the same time frees our image. Our goal is to build a bridge, between past and future, theory and practice, straight and queers, and above all, among all the bodies living now. We are very happy that many people understand and support our idea.
As promised, here are the best pictures of you guys, enjoy!